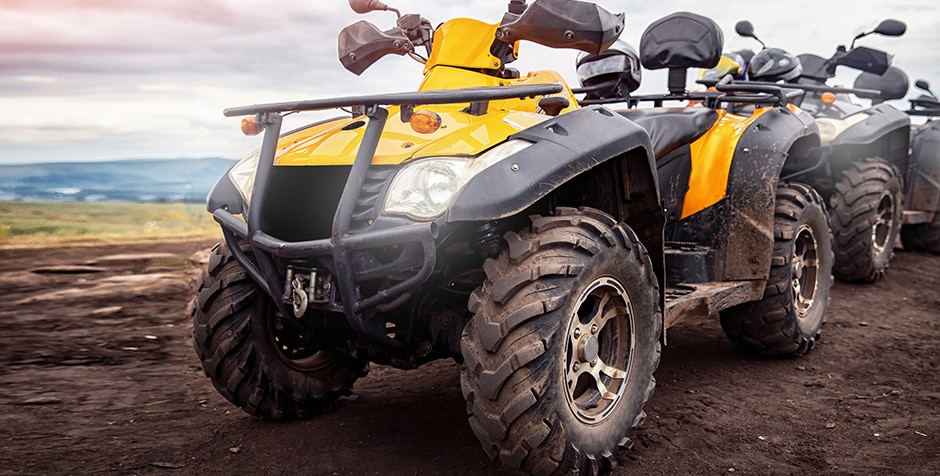 Columbus ATV Accident Lawyers
Persuasive representation for Central Ohio all-terrain vehicle and recreational vehicle accident victims
ATVs are fun for teenagers, young adults, and even older riders. They're a great way to enjoy the outdoors. They make camping and vacation trips fun. There's the thrill of bouncing over mountainous and hilly terrains. There are constant dangers though. It's easy to fall from an ATV. Your feet can get stuck on the ground or behind a wheel. Operators who accelerate too fast may roll over their ATV. ATVs can be hard to control.
At Soroka & Associates, LLC, our Columbus ATV attorneys are seasoned personal injury lawyers. We understand what types of negligent conduct causes ATV accidents. We also understand when defective ATV parts can cause an ATV to crash. Our lawyers understand when property owners may be liable for your accident. Our team works aggressively to prove how an ATV accident happened, and who is responsible. We are respected across Central Ohio for our strong record of verdicts and settlements in personal injury cases.
What are all-terrain vehicles (ATVs)?
ATVs come in a variety of shapes and sizes – with different attributes. Most ATVs have four wheels. There are also ATVs with three, six, and eight wheels.
Utility ATVs. Many ATVs are utility ATVs. They have big motors, short suspensions, and many accessories. They're often used for hunting, industry, and agriculture. They can carry cargo. Utility ATVs can also be used for recreational activities.
Sport ATVs. These ATVs (sometimes called all-rounders) have mid-size engines. They're generally easier to handle than utility ATVs. They are designed for athletic events and for people who want to "compete and run." They have light frames and are generally the ATV of choice for adventurous riders.
Side by side (SxS) ATVs. These ATVs had two seats. They're shaped like golf carts and can carry passengers in the rear. They're lightweight with powerful engines. Side by side ATVs come with a steering wheel (unlike most other ATVs where the handlebars do the steering), foot pedals, and seatbelts.
Youth ATVs. These vehicles are designed for children as young as four years old.
ATVs are designed to be ridden on off-roads – away from cars, trucks, and other vehicles. They're built to ride on dirt, gravel, ice, snow, asphalt, and other types of terrains.
In addition to ATVs, other recreational vehicles include electric bicycles, motorbikes, dirt bikes, mopeds, and three-wheel motorcycles (called trikes).
Why do ATVs cause accidents, injuries, and fatalities?
Our Columbus ATV accident lawyers are skilled at showing why ATV accidents happen, and what steps should have been taken to prevent their occurrence. ATV accidents are often due to:
Rider inexperience
Overconfidence, aggressiveness, speeding, and risk-taking
Lack of familiarity with safe travel routes or veering off safe routes
Driving under the influence of alcohol or drugs which affects judgment and the ability to operate the ATV
Operating the ATV in bad weather
Having more passengers on the ATV than the ATV can handle
Many ATV accidents happen because of poor design or workmanship of the ATV. Defective clutches, throttles, and fuel lines can cause fatal accidents and catastrophic injuries.
What are common ATV and recreational vehicle injuries?
At Soroka & Associates, we represent Columbus ATV accident victims who suffer the following types of injuries, among others:
Traumatic brain injuries or head trauma
Traumatic amputation injuries such as the loss of an arm or leg
Paralysis
Multiple, compound, complex, and simple bone fractures
Hearing or vision loss
Internal bleeding and organ damage
Road rash
Back, neck, and shoulder injuries
Leg and feet injuries
Our Columbus ATV accident lawyers work with your doctors and, when necessary, our own medical network, to confirm how serious your injuries are, all the medical care you will need, and all the ways your injuries have made your life more difficult.
We file wrongful death actions when a child, parent, or spouse tragically dies due to an ATV accident in Central Ohio.
What safety precautions should ATV riders take?
Riders of all ages, especially those who do not have a driver's license, should take age appropriate courses. The ATV Safety Institute recommends that:
Operators inspect their ATV before each ride. Operators should check the tires, wheels, controls, cables, lights, electronics, oil, fuel, chain, and chassis.
Have the correct riding gear. Safety gear includes helmets, goggles, boots, long pants, a long-sleeved shirt or jacket, and gloves.
Follow safe-operation rules. These rules include staying off paved roads except to cross them, avoiding alcohol or drugs, riding an age-appropriate ATV, and not carrying passengers or carrying only the number of passengers the ATV is designed to carry. There should be supervision for riders under 16.
What Ohio laws regulate ATV operation?
There are numerous laws that regulate ATV operation in Ohio including Section 4519.20, for equipment of snowmobiles, off-highway motorcycles, and all-purpose vehicles.
Generally, ATVs are regulated as all-purpose vehicles. ATVs should be registered with the state to operate them on any public roads or lands. The ATV should have a license plate and a decal registration sticker. ATVs should not be used on highways and freeways. The ATVs should have certain equipment including a sufficient headlight, taillight, braking system, and muffler system. Accidents involving injuries or death must be reported to the proper officials within 48 hours. ATVs cannot be used for hunting animals.
Riders under 16 must be supervised by an adult who has a valid driver's license. Nobody under 12 can operate an ATV in Ohio.
Who is responsible for my Columbus ATV accident?
Our Columbus ATV accident lawyers are skilled at filing claims against all responsible parties. Responsible defendants may include:
The operators of the ATV if a passenger is injured or killed.
The owners of private lands that are not properly maintained by the owner or maintenance companies.
The manufacturers, distributors, and retailers of defective ATVs and defective ATV parts.
In some ATV cases, the defendants may try to argue that a victim was contributorily negligent. We work with investigators, ATV product experts, and others to show that the defendants are fully liable for your injuries or the death of a loved one.
Do you have an ATV accident lawyer near me?
At Soroka & Associates, our Columbus office is located at 503 South Front Street, Suite 205. We're located near I-71 and Rt. 23. If a victim is ill, immobile, or not capable of coming to our office for other reasons, we do meet victims and parents at their homes and hospitals.
Get help now. Contact our experienced Columbus ATV lawyers today
At Soroka & Associates, our personal injury lawyers are skilled at showing how ATV accidents happen, and who is responsible. We demand compensation for all your injuries including medical bills, pain and suffering, scarring and disfigurement, lost income, and property damage. We'll guide you through the litigation process, the insurance negotiations, and, if necessary, a trial before a jury.
Call us at 614-358-6525 or fill out our contact form to schedule a free consultation. We represent ATV victims on a contingency fee basis.