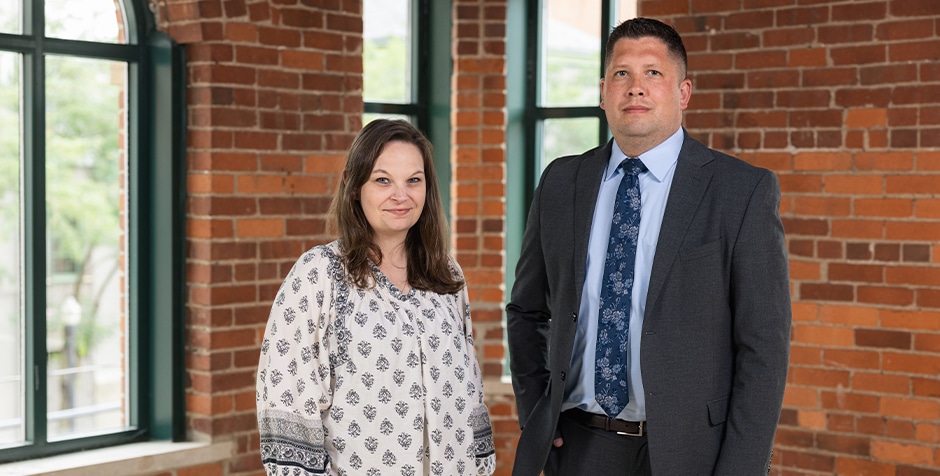 Columbus Divorce Attorneys
Legal help in preparing you now for a better future ahead
Facing a divorce can feel overwhelming. Issues of child custody, parenting time, property division and spousal support can be complicated and sometimes adversarial. How do you know if you're doing the right thing for yourself and for your children? Whether your divorce seems clear-cut or complex, you need to protect yourself in order to step into your new life feeling confident and secure.
None of us go into a marriage thinking about divorce, but if it does happen, it's important to be prepared. At Soroka & Associates, our Columbus family law attorneys provide strong, effective, and compassionate representation when you're seeking a divorce. We want to help, and our team works tirelessly to ensure that our family law clients obtain superior results, and to make this difficult process as painless as possible.
What are grounds for divorce in Ohio?
In Columbus and throughout Ohio, spouses can file for divorce under fault or no-fault. The court may grant a divorce based on the following grounds, per Ohio Code Section 3105.01:
Bigamy
Willful desertion
Adultery
Extreme cruelty
Fraudulent contract
Gross neglect of duty
Habitual drunkenness
Imprisonment
Procurement (of a divorce outside of Ohio)
Separate living and without cohabitation (for at least a year)
What if my spouse doesn't want a divorce?
Of course, ending a marriage is easier for everyone if the divorce is mutual. However, if marital counseling or negotiations lead to a dead end and your spouse refuses to proceed, it's important to remember that they can't prevent you from getting a divorce. You can proceed with a contested divorce, based on the grounds discussed above. Note that grounds for divorce include living separate and apart for one year, so a separation can apply in the event the other grounds do not.
Our Columbus divorce attorneys can explain more about how this works in a consultation.
Do you have to be separated before filing for divorce in Ohio?
No. You don't have to be legally separated before filing for divorce, but some spouses choose to separate depending on their particular circumstances. A separation for one year fulfills grounds for a fault-based divorce, for example. Some couples choose to remain separated indefinitely, for financial, religious, or other reasons.
Further, a separation agreement allows a couple to begin making decisions about things like child custody, property division, and other matters. These can be written up in a formal document to be approved by the court.
What are the residency requirements for divorce in Ohio?
When filing for a fault-based divorce, the spouse making the divorce filing must have been a resident of Ohio for at least six months immediately before filing the complaint. For a no-fault, or dissolution of marriage, at least one spouse must have been a resident of Ohio for at least six months as well.
Can I get my Columbus marriage annulled?
Ohio allows marriage annulments under certain and specific circumstances. Per Ohio Code Section 3105.31, these grounds include:
One of the parties was under the age of 18 at the time of the marriage, unless after reaching that age the party "cohabited with the other as husband or wife"
One of the parties was already and continues to be married to another spouse
One of the parties is declared legally mentally incompetent
Consent to marriage by either party was obtained by fraud or deception
Consent to marriage by either party was obtained by force
The marriage was never consummated, even if otherwise valid
After an annulment, it's as if the marriage never took place at all. Therefore, neither person can petition for things like property division or spousal support. However, if you have children together, you may want to consult with one of the Columbus child custody attorneys at Soroka & Associates to discuss your parenting rights and responsibilities.
How can your Columbus divorce attorneys help?
Many divorcing couples are tempted to DIY their divorces online, or perhaps choose to go it alone. Divorces are rarely simple, and this is rarely a good idea. With experienced lawyers on your side, you can have the confidence that someone is advocating for your best interests 100% of the time. The legal team at Soroka & Associates:
Explains the property division process, and how separate versus marital property works
Helps discover all marital assets, including any a spouse may be attempting to hide or conceal
Assesses whether you are eligible to receive spousal support or required to pay
Determines any financial, business, or tax implications of the divorce
Helps develop a mutually beneficial parenting and custody plan that prioritizes your children's needs above all
Drafts and prepares divorce papers and all related documentation
Represents you in court; our attorneys are strong and experienced litigators
We understand that divorce can be a frustrating and emotional time. Having an attorney on your side can make it easier.
Do you have a divorce lawyer near me?
Soroka & Associates is located at 503 South Front Street, Suite 205 in Columbus. Our offices are located near a parking deck, and a few blocks away from Rt. 23 and I-71.
Columbus divorce attorneys advocating for you
There are a multitude of issues that can, and often do, arise during the course of a divorce, and it's critical that you have skilled and experienced legal counsel to help. The good news? The Columbus divorce lawyers at Soroka & Associates are here to guide you and keep you well-informed throughout the entire process. To set up a consultation, call 614-358-6525 or fill out our contact form to get started today. We serve clients in Columbus and throughout Central Ohio, including in Licking County, Delaware County, Fairfield County, and beyond.
Related Articles: