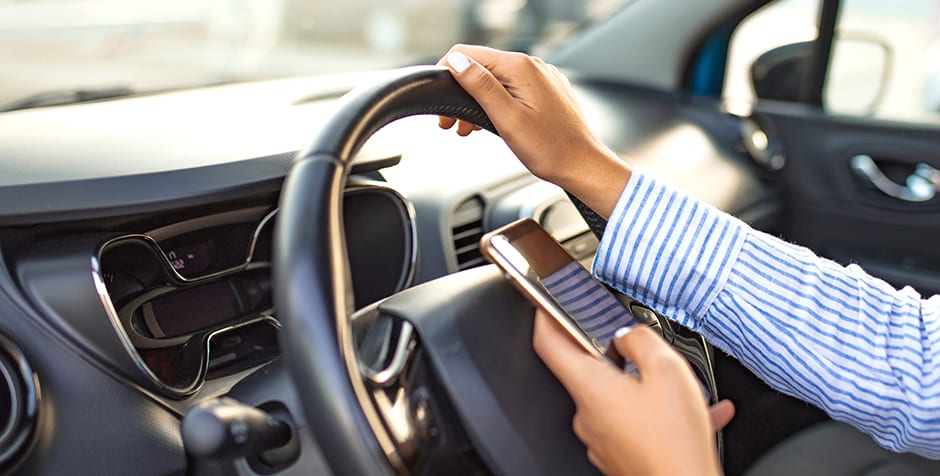 Columbus Distracted Driving Lawyers
Persuasive representation for Central Ohio drivers, passengers, pedestrians, and cyclists injured by distracted drivers
Distracted driving accidents should never happen. There's never anything that cannot wait until the driver gets home. Phone calls. Email messages. The internet. That chicken salad sandwich. They can all wait. If a driver is tired, he/she should get off the road. Sadly, most drivers treat their cars like their homes. The number of distracted driving accidents is constantly rising.
At Soroka & Associates, LLC, our Columbus distracted driving lawyers are skilled at showing why accidents happen and who is responsible. We understand what evidence must be reviewed to determine if a car driver, a truck driver, a rideshare driver, or any other driver was distracted. We demand compensation for all your financial and personal losses. If a loved one tragically died because of driver distraction, our Columbus personal injury lawyers file wrongful death claims on behalf of their families.
What is distracted driving?
Distracted driving is defined by the US Centers for Disease Control and Prevention as any activity that takes a driver's focus away from their driving. Driver distraction includes:
Visual distraction. A driver's eyes are not looking at the road
Manual distraction. The driver's hands are not on the steering wheel.
Cognitive distraction. The driver isn't mentally thinking about the traffic around them and how to respond to emergencies.
Examples of distracted driving include:
Texting while driving
Sending or receiving emails while driving
Looking at the Internet while driving
Talking on a cellphone or smartphone while driving
Eating or drinking while driving
Personal grooming while driving
Turning to look at passengers while driving
Caring for a child or a pet while driving
Driving while intoxicated
Looking at the scenery or an accident instead of the road
Ohio considers the use of a hands-free communication device to also be driver distraction.
Just a moment's distraction can be the difference between life and death; between normalcy and living with a catastrophic injury such as brain trauma, spinal cord damage, amputations, or broken bones.
How often do distracted driving accidents happen?
Between 2016 and 2020, there were more than 66,000 traffic accidents that involved distracted drivers in Ohio, with 212 fatalities. The Ohio county with the most distracted driving accidents was Franklin County, with a total of 6,278 over the five-year period.
What are Ohio's distracted driving laws?
Ohio generally considers all the examples above as driver distraction, but the state's distracted driving law focuses on wireless communications.
Generally, the usage of all electronic wireless communication devices is illegal for drivers under age eighteen. Texting while driving is illegal for all drivers, but only as a secondary violation. The primary violations are speeding and the violation of other traffic laws. Penalties are normally any fines for underlying violations and additional fines (about $100) for driving while distracted.
However, in the event of an injury claim, there is no requirement that victims show that a driver was cited by the police. Our Columbus distracted driving lawyers are skilled at showing driver distraction – regardless of whether the driver was cited for a traffic violation.
How do your Columbus attorneys show a driver was distracted?
Some of the many methods our Columbus car and truck accident lawyers use to show a Central Ohio accident was due to driver distraction include:
Reviewing what electronic devices the driver was using at the time of the accident. This includes smartphones, GPS systems, internet devices, and entertainment systems. If there are reasonable grounds to believe the driver was distracted, we request or seek court approval to examine the electronic devices for any communications and operations immediately prior to the accident.
Reviewing your observations and any observations of passengers in your car.
Questioning the driver and all the passengers in the driver's car.
Questioning any eyewitnesses.
Discussing with the police their review of the accident, including the discovery of any evidence of distracted driving including phones, sandwich wrappers, coffee cups, or signs of intoxication or driver fatigue.
Examining any truck logs that may provide information about whether the driver was fatigued.
Investigating if there are any videos of the accident from nearby businesses.
Reviewing the path of the car driven by the distracted driver before, during, and after the accident.
We explore other avenues depending on how the accident happened such as the weather conditions, traffic conditions, skid marks, and property damage.
Who is responsible for my Columbus distracted driving accident?
At Soroka & Associates, we file claims against everyone who may bear some responsibility for your injuries or the death of a loved one. Defendants may include:
The distracted driver.
The owners of the car. For example, teenage drivers are a common cause of distracted driving. We file claims against the parents who owned the car driven by a distracted driver.
An employer. Some accidents are caused by a truck driver or a salesperson on the job.
Trucking companies. Many truck drivers drive while they're tired or distracted for other reasons. We may file claims against the trucking company that arranged the shipment, the company that requested the shipment, or other truck companies.
We will likely seek compensation from Uber or Lyft if a rideshare driver was looking at their GPS or app instead of the road when an accident occurred.
What is the time limit for filing a distracted driving accident claim?
Ohio has a two-year statute of limitations for personal injury cases, which includes car accidents. This means that if you do not file your claim within two years from the date of the accident, your claim for damages may be barred.
Do not wait the two years. Distracted driving cases should be investigated immediately after the accident happens. Our Columbus attorneys need to examine the accident site, speak with all the witnesses, and question the defendants through formal written and oral questions. We also need to examine any smartphones, other devices, and logs before the data is deleted.
The sooner you contact Soroka & Associates, the sooner we can answer your questions, review your medical injuries, and start your legal claim.
Do you have a distracted driving lawyer near me?
The Columbus office of Soroka & Associates is located at 503 South Front Street, Suite 205. We are conveniently located just blocks away from Rt. 23 and I-71. If your injuries leave you unable to travel, we will come to you.
Call our Columbus distracted driving lawyers today
Hold distracted drivers accountable before they injure or kill someone else. Contact the attorneys at Soroka & Associates to learn more about how we can help with your claim. You can call us at 614-358-6525 or fill out our contact form. Our initial consultation is free of charge, and if we accept your case, we conduct our work in personal injury matters on a contingent fee basis. This means that we get paid only if there is a monetary award on your behalf. We serve clients in Columbus and throughout Central Ohio, including in Licking County, Delaware County, Fairfield County, and beyond.