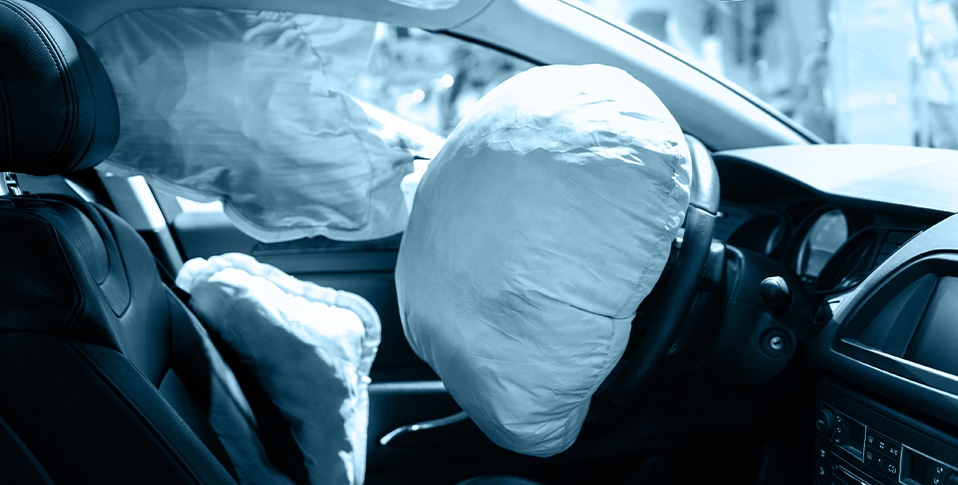 Columbus Auto Defect Lawyers
Strong advocacy when defective car parts cause injuries or death in Central Ohio
There are nearly 290 million registered cars in the US as of 2021. Millions of cars are purchased every year in America. Nearly 11 million cars were registered in Ohio in 2019. The sale of electric vehicles is on the rise. All of these vehicles have two things in common. The first is that cars are made with numerous moving parts. If just one part is defective, a driver can lose control of the vehicle, causing serious injuries or fatalities. The second is that car and parts manufacturers are in the best position to determine if their cars and products are safe.
The data above, as detailed in Finance Online, shows that America's love for cars is continuing to grow. Sadly, this means that number of accidents is also on the rise. The pandemic has not slowed down the number of accidents and their severity. The National Highway Traffic Safety Administration reported that more than 20,000 people died in traffic accidents in the first half of 2021. At Soroka & Associates, LLC, our Columbus car accident lawyers have earned a strong reputation for holding all responsible parties accountable for vehicle accidents. We file liability claims again everyone responsible – including auto parts manufacturers and suppliers. We represent drivers, passengers, pedestrians, and the families of loved ones killed in a car crash.
What types of claims can be filed in auto defect accident cases in Columbus?
At Soroka & Associates, our personal injury lawyers file claims against all responsible parties. The defendants in a car accident claim may include the driver, the owner of the car, a manufacturer of a defective auto part, a supplier of a defective auto part, and other defendants.
The claims against manufacturers and suppliers are normally based on a combination of product liability, negligence, and breach of warranty.
The claims are categorized as personal injury claims if they are brought on behalf of survivors. They are called wrongful death claims if they are filed on behalf of the family of a loved one who died in a Columbus car accident.
What is a product liability claim?
If injured in an accident caused by a faulty auto part, all victims have the right to file a product liability claim; meaning claims are not limited to just the owner of the car. Any occupants in the car with the defective auto part, any injured occupants of other cars, pedestrians, and bicycle riders can all file a product liability claim.
Ohio defines a product liability claim as a claim:
For compensatory damages for physical injury, emotional distress, property damage, or death
From a manufacturer or supplier
Alleging that the damages were due to:

The defective "design, formulation, production, construction, creation, assembly, rebuilding, testing, or marketing of that product."
"Any warning or instruction, or lack of warning or instruction, associated with that product."
"Any failure of that product to conform to any relevant representation or warranty."
Other authorized reasons
Generally, manufacturers and suppliers are strictly liable for any harm they cause without the need to prove negligence if the above conditions can be shown. At Soroka & Associates, our Columbus lawyers are skilled at showing victims have a viable product liability claim.
A manufacturer means "a person engaged in a business to design, formulate, produce, create, make, construct, assemble, or rebuild a product or a component of a product."
A supplier means, subject to certain conditions, any of the following:
"A person that, in the course of a business conducted for the purpose, sells, distributes, leases, prepares, blends, packages, labels, or otherwise participates in the placing of a product in the stream of commerce.
A person that, in the course of a business conducted for the purpose, installs, repairs, or maintains any aspect of a product that allegedly causes harm."
Our Columbus auto defect lawyers work with auto product safety experts to help show the parts were defective, the instructions were improper, or the products failed to conform to any representations or warranties.
What types of auto parts defective product claims do you handle?
Our Columbus auto part defect lawyers represent victims and families when a malfunctioning or unsafe auto part causes a car accident or fails to protect a passenger, including:
Defective fuel systems. If the fuel systems are defective, the car could explode or catch fire. The fuel systems should be built to reduce the risk of fires and to control the flow of gas after a crash.
Steering systems. Vehicles should stay in the center of lanes without much difficulty. Cars should turn in the direction drivers intend. Steering systems shouldn't freeze up.
Braking systems. If your brakes don't work, you'll likely slam into vehicles in front of you. You may be forced off the road to stop your car. ABS systems, emergency brakes, and parking brakes need to work in addition to standard brakes. You should be able to pump your brakes when the roads are wet.
Tires with defective suspensions, treads that wear out too easily, and other defects can cause a blowout or cause a driver to lose control of his/her vehicle. Blowouts can cause your vehicle to roll over.
Windshield wipers and windows. The wipers need to work when it's raining. Windshields shouldn't have any holes or cracks. The windows should easily roll up and down.
Headlights and taillights. You need headlights to see at night and to warn other drivers of your presence. Taillights help other drivers see you. When lights fail to work, the consequences could be fatal.
Seatbelts and airbags. Though these products do not control how you drive your car, they do control how severely you are injured in a crash. Seatbelts should keep you from moving about the car. Airbags should also protect against movement and the impact of any collision. Defective airbags can expand with more force than they should – causing broken bones, head and brain trauma, burns, blindness, and other severe injuries. Seatbelts and airbags should protect both children and adults.
Hardware and software. More and more cars are being built with new technologies that work to avoid accidents and protect you when accidents do happen. The NHTSA identifies some of these newer technologies: Cruise controls, antilock brake systems, blind spot detection, forward collision warning, lane departure warning, automatic emergency braking, lane centering assist, traffic jam assist, and other technologies. In addition to the manufacturers, hardware and software companies may be liable for Columbus auto defect accidents when technology malfunctions.
Additionally, vehicles shouldn't accelerate more than intended. Cars should be crashworthy – so that damage is minimal when collisions do occur. Door latches should keep occupants in their cars.
Who is responsible for a defective auto part claim in Columbus?
In most auto defect cases, the manufacturer is primarily responsible for any defective products. The manufacturer can be a car company such as Ford or General Motors, or could be a company that makes one of the components such as airbags, windshield wipers, or tires.
As discussed earlier, suppliers may also be liable. Suppliers include distributors, sellers, repair companies, installers, and other companies.
How does an auto product recall affect my claim?
Often, the manufacturer or supplier is aware that an auto model or auto part is defective because the model or part is subject to a recall. A recall is generally a notice that there have been complaints about the safety of the car/car part and that the auto part needs to be repaired or replaced before the car should be driven.
Recalls are often initiated by the National Highway Traffic Safety Administration (NHTSA). Car manufacturers may issue a recall based on an NHTSA mandate or their own investigation.
Manufacturers can be held liable for an auto defect regardless of whether a recall was issued or not. However, the fact that a recall was issued is a strong indicator an auto part was defective. If a manufacturer fails to warn consumers that a recall was issued, our Columbus auto defect lawyers will include a claim for punitive damages.
What is the time limit for filing an auto defect claim in Columbus?
All personal injury and wrongful death claims must be filed within two years from the date of any accident. In auto defect cases, you should never wait. It is best to contact our seasoned auto defect lawyers as soon as possible. We need to investigate how the accident occurred. We need to have experts examine your car or the car involved in the crash so they can analyze the auto part and the circumstances surrounding your accident.
Do you have an auto defect lawyer near me?
The Columbus office of Soroka & Associates is located at 503 South Front Street, Suite 205. We're close to I-71 and Rt. 23. We do meet accident victims at their homes and other locations if the victims are ill or immobile.
Talk to a strong Columbus auto defect advocate today
Get help now. Speak with the Columbus personal injury lawyers at Soroka & Associates to discuss your rights after a car accident. We handle the tough cases, including cases where accidents are caused by defective auto parts. We have helped many victims obtain just settlements and verdicts. Call us at 614-858-3744 or fill out our contact form to schedule a free consultation. We handle auto defect cases on a contingency fee basis.