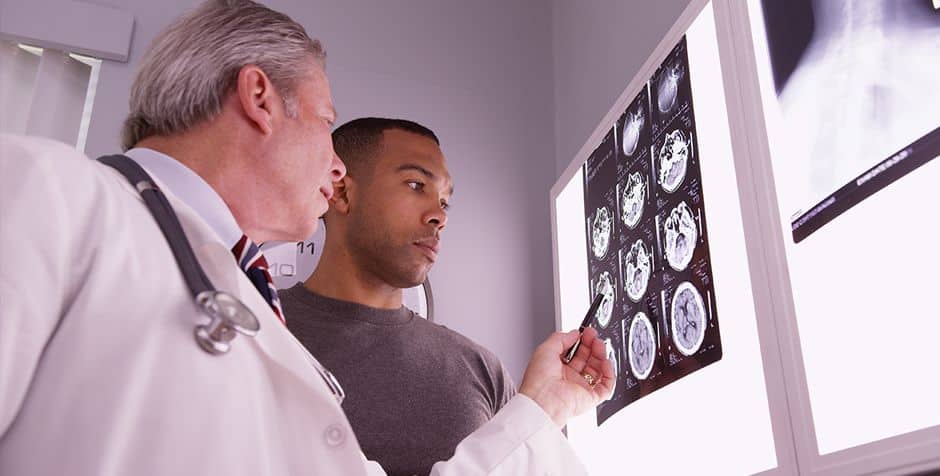 Columbus Traumatic Brain Injury Lawyers
Skilled representation for head trauma victims and their families in Central Ohio
Car and truck accident, worksite accidents, and attacks on unsafe property may result in head trauma, which can lead to traumatic brain injuries (TBIs). A traumatic brain injury disrupts the brain's function and leads to injury of the scalp, skull, or brain. A TBI can also have drastic physical, emotional, and cognitive impacts on your life for years to come. If you or a loved one has suffered a TBI, it is important to talk to a lawyer about your rights.
At Soroka & Associates, LLC in Columbus, our personal injury attorneys have the necessary skills, experience, and resources to provide effective and personal representation in TBI matters and other injury cases. We help clients understand their rights and how we will advocate for them so they can move forward with their lives. We work to secure maximum compensation for the injuries and losses that victims and families suffer, including pain and suffering, medical expenses, and lost wages.
What are the signs and symptoms of brain injuries?
After an accident, a TBI may not be immediately apparent. The victim and their family members should stay vigilant and look out for signs and symptoms that a brain injury has occurred, such as:
Physical difficulties including a coma, headaches, nausea and vomiting, loss of coordination or fine motor control, light sensitivity, seizures, dizziness, infections, and damaged blood vessels. A TBI at the base of the skull can cause facial paralysis or numbness, swallowing problems, and loss of vision, hearing, taste or smell.

Strokes, paralysis, and problems with bladder and bowel control are possible.

Cognitive disabilities including memory loss and difficulty concentrating. Cognitive difficulties can vary by victim, and may be temporary or permanent.
Emotional and behavioral changes including post-traumatic stress disorder, anxiety, substance abuse, and depression. In some cases, a brain injury may permanently alter a victim's personality.
How are brain injuries classified?
There are two classifications of head injuries: closed injuries and penetrating injuries.
In a closed injury, the head sustains an injury from a blow or jolt. This can result from a direct hit to the head or from a force on the brain inside the skull. The most common types of closed head injuries are concussions and contrecoup injuries from vehicle crashes.
In a penetrating injury, also known as an open injury, an object may impact the head or enter the brain, causing an open head wound and injury deep inside the brain. Penetrating injuries can be caused by acts of violence, being hit by tools or falling objects on a worksite, or an act of medical negligence.
Such injuries may result in losses of daily functions, and it is important to immediately seek medical attention and consult an experienced personal injury attorney.
How are traumatic brain injuries diagnosed?
Blood tests and a CT scan may also be ordered. A neuropsychological evaluation such as a Glasgow Coma Scale is commonly used to assess the severity of a TBI by examining how well (or not well) a patient responds to various stimuli.
Other tests will examine the victim's ability to communicate, their intellectual abilities, the ability to concentrate, learning abilities, and other abilities. X-rays will also be used to check for bone breaks and spine problems.
What are the treatments for traumatic brain injuries in Columbus?
The brain damage cannot be reversed. The aim of treatment is to help prevent further harm and to help the victim adjust to his/her new health condition. The treatments often include:
Residential rehabilitation, or supervised community living, with "behavioral programming, social supports, and support and training in daily living skills such as personal care, household management, health and medical care, grocery shopping, money management and budgeting."
Therapeutic day programs, on a group and individual basis, that help TBI victims with their daily living, social interactions, recreational activities, and other programs to help victims improve their quality of life. The programs focus on behavioral issues, community participation, thinking skills, and other needs.
Physical therapy aims to restore a victim's balance, strength, endurance, muscle tone, and mobility.
Occupational therapy which focuses on the skills TBI victims need to work, attend school, and function at home.
Speech and language therapy which helps victims communicate and swallow.
Vocational therapy that helps victims return to their jobs or work in new jobs
Physiatry, a type of medical treatment that helps victims cope with pain, weakness, and helps improve their independence and functioning.
Psychotherapy, which helps TBI victims develop and maintain relationships, adjust to their deficits, and learn more about coping with a TBI.
Vestibular therapy, which helps patients use exercises to reduce dizziness and improve balance.
Therapy includes working with families and employers in addition to the patient.
What types of accidents cause traumatic brain injuries?
Accidents that involve significant force, back and forth head movements, or twisting movements are common causes of traumatic brain injuries. Some of the many types of accidents that result in head trauma and brain injuries include:
Soroka & Associates sends investigators to examine the accident site. We question all the witnesses and defendants. Our Columbus brain injury lawyers review relevant records and documents. Our lawyers work aggressively to show how your brain injury or the head trauma of a loved one occurred.
What damages can you claim for a TBI in Columbus?
Nearly half of all TBI survivors require surgery to fix or remove ruptured blood vessels and contusions. TBI accident victims may not be able to return to work or support their family as they did before the accident. These injuries can cause long-term financial strain, and you are entitled to be compensated when another person's negligence causes you harm.
At Soroka & Associates, we seek compensation for all your damages – from the date of the accident through the rest of your lifetime. These damages include:
Medical bills, including travel expenses associated with care
Lost wages, income, and benefits, as well as loss of future earning potential
Property losses
"Human" damages such as physical pain, anxiety, mental distress, loss of enjoyment of life, physical impairment, and the inability to perform ordinary activities
Our firm understands the challenges and emotions that TBI victims face, including being out of a job and having mounting medical bills. We strongly believe in holding the negligent parties responsible for your injuries. Our lawyers work to see that you are protected and get the compensation to which you may be entitled.
Do you have a traumatic brain injury lawyer near me?
Soroka & Associates is located at 503 South Front Street, Suite 205 in Columbus, conveniently located near Rt. 23 and I-71. If you or your loved one is too injured to travel, we will come to your home or the hospital.
Schedule the help you need by calling our Columbus TBI lawyers today
Traumatic brain injuries are life-changing. They affect the families of the victim as much as the victim. TBI victims require long-term help just to be able to function and manage their daily lives – let alone enjoy social relationships and work. At Soroka & Associates, our trial lawyers represent personal injury victims in and around Columbus and Central Ohio, including in Licking County, Delaware County, Fairfield County, and beyond.. We'll help you assert your rights.
Call us 614-358-6525 or use our contact form to get started. Our initial consultations are always free. We handle TBI claims on a contingency basis so you don't have legal fees unless your claim settles or there is a verdict in your favor.
Related Articles: