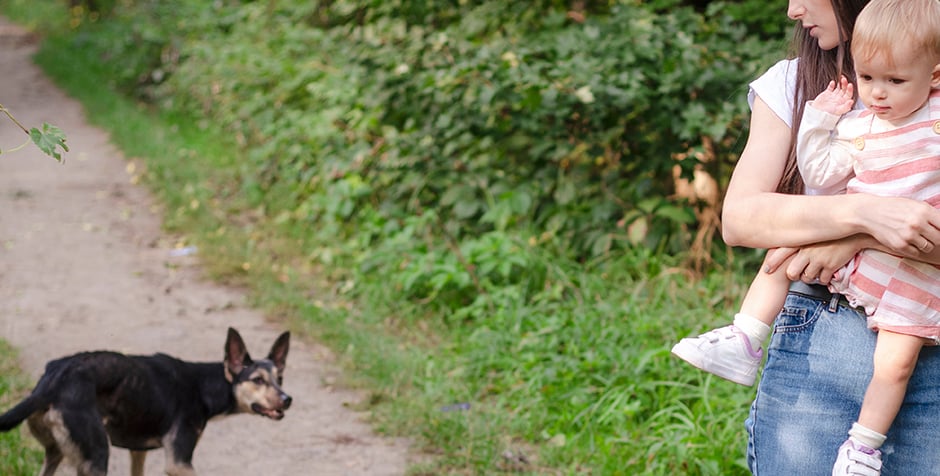 Columbus Dog Bite Injury Lawyers
Helping children and adults who are bitten by dogs in Central Ohio
Most everyone loves a dog. They're adorable. They're loyal. Those sad eyes just make you want to hug them. For owners of collies, Irish setters, pugs, Scottish terriers, and other breeds – dogs are indeed a man's (and a woman's) best friend. There are risks though. Some dogs are prone to bite. Even friendly, gentle dogs may bite if they are scared or provoked. Young children often don't appreciate how likely a dog is to bite. Mail carriers are constantly being barked at by dogs. Adults who are surprised by a dog may find themselves the victim of a dog bite.
At Soroka & Associates, LLC, our Columbus dog bite lawyers understand how just one dog bite can change your life forever. Some bites cause permanent damage. Some bites may be life-threatening. Dog bites are especially scary because dogs often bite a victim's face. Our lawyers understand the Ohio dog bite liability laws. We work with your doctors to fully assess what injuries you have, what medical treatments you need, and how the dog bite is affecting every aspect of your life or that of your child's life.
How dangerous are dog bites?
According to data compiled by the National Canine Research Association of America (NCRAA):
About 4.5 million dog bites happen every year in the US. This means the odds of being bitten by a dog are about 1 in 73. About 885,000 of those bites require medical attention.
The CDC reported that there were more than 340,000 ER visits for dog bites each year. More than half of those bites involved children between five and nine. In 2018, 9,415 people required extended hospital stays due to a dog bite. All the people who were hospitalized for dog bites were 25 or older. About 26% of all dog bite fatalities involved children 0-2 years old.
Ohio ranked 5th in the country for dog bite fatalities.
Some of the deadliest dog breeds are pit bulls, rottweilers, mixed breeds, German shepherds, mastiffs, American bulldogs, and huskies.
The dogs with the strongest bites (pounds per square inch) are the Kangal, the American Bandogge, and Cane Coso.
The breeds of dogs known for being the most aggressive are the American Pit Bull Terrier, Bull Mastiff, Rottweiler, German Shepherd, Husky, Chow Chow, Doberman Pinscher, and Akita.
What is Ohio's dog bite law?
Ohio has a strict liability dog bite law. Many states provide that an owner is not liable unless the dog bit someone before, or the owner knows the dog is dangerous. Ohio's law is much stronger. Ohio provides that when any dog bites someone the dog owner is liable.
The law applies to dog owners and dog keepers.
The law applies when a dog bite injures someone or kills someone.
The law does not apply if the victim was attempting to commit criminal trespass or any criminal offense other than a misdemeanor – or a minor misdemeanor against a person. The law does not apply if the victim was "teasing, tormenting, or abusing the dog on the owner's, keeper's, or harborer's property."
The law does apply if the victim was on the property of the dog owner or dog keeper "for the purpose of engaging in door-to-door sales or other solicitations."
Who can file a dog bite claim in Columbus?
At Soroka & Associates, our dog bite lawyers file claims on behalf of:
The parents of any minors who are bitten by a dog
Mail carriers
Adult victims
The families of any dog bite victim if the dog bite causes the death of the close family member
What injuries occur from dog bites?
First. Don't delay. Once a dog bites, you need to be examined at a local emergency room. The doctors there need to examine and treat the following conditions according to Medical News Today:
Stitches may be needed to close severe or facial wounds.
Infections can include capnocytophaga, sepsis, rabies, tetanus, or tetanus

A postexposure rabies vaccine may be required if the owner or victim doesn't know the dog's history of rabies vaccinations.
"People with a dirty wound should have a booster tetanus vaccine if more than 5 years have passed since their last shot. For a clean wound, people should have a booster vaccine if it has been more than 10 years since their last shot."

Cuts and abrasions should be treated promptly. Lacerations usually require stitches and can affect secondary skin levels.
Puncture wounds require prompt medical attention.
Dog bites can leave unsightly scars especially if your child's or your face is bitten. Skin grafts and plastic surgery may help – but many victims live with the trauma of how they look and feel about themselves. In addition to physical treatments, many dog bite victims with scars or disfigurement need many sessions with experienced psychologists.
In addition to the bites, if a child or adult is bitten by a dog, the human could fall causing fractures, head injuries, or spinal cord damage.
How much is my Columbus dog bite claim worth?
We understand how concerned you are. Medical care is expensive. You wonder how you'll pay your living expenses if you're an adult. You worry about how severely dog bite injuries will affect your child. Our personal injury lawyers demand compensation for all your damages or those of your child including:
Current and future medical bills for ER care, hospitalizations, doctor visits, therapy, and medications
Current and future income loss
Daily physical pain and emotional suffering
Any scarring and disfigurement
Other economic and human damages
If a child or a loved one died due to a dog bite, we file wrongful death claims on behalf of parents and other family members.
How can a Columbus dog bite attorney help my case?
At Soroka & Associates, our dog bite lawyers:
Determine how the dog bite happened, where it happened, and who the owner is.
Work with your doctors to determine how severe your injuries are, and what medical treatments you need.
Show whether you have any functional losses or physical limitations.
Explain how the dog bite injuries are affecting your life or the life of your child.
File a complaint against the dog owner.
Question all the witnesses.
Negotiate settlements with the insurance companies.
Argue your case persuasively before a jury.
Do you have a dog bite injury lawyer near me?
Our office is located at 503 South Front Street, Suite 205. We're close to I-71 and Rt. 23. If you or your child can't come to our office, we make arrangements to see you at your home or a healthcare facility.
Talk to an experienced Columbus dog bite lawyer today
Assert your rights. Hold irresponsible dog owners accountable. Contact the Columbus attorneys at Soroka & Associates to discuss your claim. We have a strong record of success in court and with insurance companies. You can reach us at 614-358-6525 or complete our contact form to schedule a free consultation. We represent dog bite victims on a contingency fee basis.