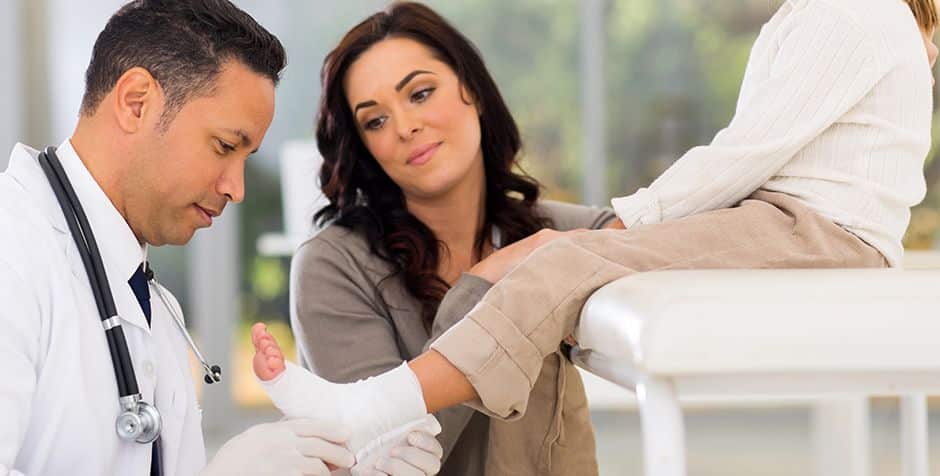 Columbus Ohio Child Injury Lawyers
Strong advocacy when accidents harm your child
Parents rely on adults and businesses to protect their children at all times. Younger children are especially prone to serious injuries due to their small size, their inability to comprehend dangers, their natural curiosity, and because many of the products toddlers are attracted to are unsafe. Older children are the age group most likely to suffer fatal and serious car accidents due to distracted driving and other causes.
At Soroka & Associates, LLC, our lawyers understand the unique concerns and unique challenges involved when a newborn, a toddler, a pre-teenager, or an adolescent is injured. We understand the tragedy when a child dies before his/her life has even started. Parents can rely on our seasoned experience in showing that defendants failed their duty of safety to your child. We work with your doctors and our own network of pediatricians and childcare doctors to diagnose your child's injuries, help them receive the treatment they need, and document the challenges they face.
What types of accidents does your Columbus child injury firm handle?
At Soroka & Associates, our lawyers are skilled personal injury lawyers. We represent children who are injured and the parents of children if a child tragically dies. Our Columbus lawyers are ready to handle the following types of accidents:
Car accidents. Children are more likely to have serious injuries than adults. Young children need extra protection, so they don't move around the car when a collision occurs. Their smaller size makes them more vulnerable to lifelong injuries such as head trauma and spinal cord damage.
Dog bites and animal attacks. Dogs pose a danger for two reasons. The first is the natural friendliness children have for dogs can easily frighten or scare a dog – causing the dog to bite. The second is that children, because of their size, are more likely to suffer more severe injuries than adults. Common dog bite injuries include infections, diseases, puncture wounds, scarring, and disfigurement.
Premises liability. Ohio provides extra protection for curious children who venture onto the property of others. The law recognizes that pools, trampolines, and other items might attract a child - even when the property is private. Property owners need to take extra steps such as building fences to protect children from drowning, spinal cord injuries, and other dangers.
Dangerous products. The manufacturers of cribs, products that can be easily swallowed, medications, medical devices, flammable products, bicycles, and other consumer products designed for children may be liable if product defects injure your child.
School and recreational activities. Schools and organizations that educate children or provide social activities for children need to be extra-careful to vet the adults who teach or supervise children. Competent adults should monitor all activities involving children. Bus drivers may be accountable if they cause accidents.
Our Columbus child injury lawyers also file claims on behalf of children who are involved in bicycle accidents, ATV accidents, motorcycle crashes, pedestrian accidents, accidents at amusement parks, and accidents at daycare centers.
What kinds of injuries do children commonly experience?
At Soroka & Associates, our Columbus child injury lawyers understand how frightening it is to learn that your child suffered any injury – especially an injury that might cause permanent damage to your child. You worry about your child's pain and his/her ability to lead a normal life.
Our lawyers are skilled personal injury lawyers. We represent children who suffer any injury including:
Dental injuries, vision loss, and hearing loss
Internal organ damage
Nerve, ligament, tissue, or muscle damage
Scarring and disfigurement
What you should know about pediatric brain injuries
Pediatric brain injuries are different from adult brain injuries. When an adult sustains brain trauma, the chances are very good that the injury will not worsen over time. The opposite is true for children who suffer TBI: it gets progressively worse as the child gets older. This is because your child's brain continues to develop after the injury, which means the deficit will worsen over time.
It can be difficult to identify TBI in children, as they may be unable to tell you what is wrong or explain the symptoms they have. That is why working with a team of experts is a critical part of understanding the extent of the injury and its effects. Some of the experts our team works with include:
Pediatric neurologists, physiatrists, and developmental pediatricians
Pediatric neuropsychologists / psychologists
Pediatric speech language pathologists, physical therapists, and occupational therapists
Special Educators
Behavior specialists
Transition specialists
Soroka & Associates understands the methodology of these unique cases. Clinical deficits need to be figured out for treatment needs and life care planning. Long term deficits and losses point to the extent of legal damages. We analyze severity and type of brain injury, age at time of injury, any preexisting factors (gifted/ADD/ADHD/learning disabilities/speech and language delays/emotional issues), and resources that will be made available to the child to properly represent the child and make sure the damages we go after will support their future needs and care.
What are the unique issues involved with filing claims on behalf of children?
Filing a claim on behalf of a child is different than filing on behalf of an adult. Some of these challenges include:
Who can file the claim? Parents normally file a claim on behalf of their minor children.
How are the insurance proceeds handled? If there is a settlement on behalf of your child, normally the judge assigned to your child's case must approve the settlement. The insurance proceeds from a settlement or verdict are normally placed into a structured settlement, annuity, or trust – so the funds are available for your child's medical needs while he/she is a child. The funds are then distributed to your child when he/she becomes an adult.
Does contributory negligence apply to children? In Ohio, adult plaintiffs are proportionally responsible if their negligence contributes to the accident. Children, especially, young children (under 7) are presumed incapable of negligence. Older children (mostly children older than 14) may be partially responsible for their negligence.
Generally, the statute of limitations for filing a claim is two years from the date of the accident, but it is different for children. The statute of limitations for a child's claim does not start running until they reach the age of 18. Our lawyers also explain when and how the statute of limitations is tolled for claims involving children.
What laws and agencies protect children in Columbus?
Ohio has specific requirements for children when they ride in cars. As of October 7, 2009, parents must make sure their children are protected as follows:
"Children less than 4 years old or 40 pounds must use a child safety seat meeting federal motor vehicle safety standards.
Children less than 8 years old, unless they are at least 4 feet, 9 inches tall must use a booster seat.
Children ages 8-15 must use a child safety seat or safety belt."
Drivers of all ages must wear a seat belt if they are in the front seat of the car.
Drivers of all ages cannot receive or send text messages. Some exceptions do apply. Drivers under 18 who have a temporary instruction permit cannot use any electronic device.  There are limited exceptions such as emergencies and some hands-free devices.
The Consumer Product Safety Commission helps protect children from dangerous products by investigating complaints and issuing recalls.
How much is my child's injury claim worth?
Our Columbus child injury lawyers are respected throughout Columbus and Central Ohio for our strong record of high settlements and verdicts. We thoroughly review all your child's immediate and long-term needs. We demand full compensation for your child's:
Medical expenses – current and future
Lost income – if he/she had any type of work history
Physical pain and emotional suffering
Scarring and disfigurement
Psychological trauma
Loss of function and loss of life's pleasures
We also file wrongful death actions on behalf of the parents when a child tragically dies due to a Columbus accident.
Do you have a child injury lawyer near me?
The Columbus office of Soroka & Associates is located at 503 South Front Street, Suite 205. We are conveniently located near I-71 and Rt. 23. We do meet children and their parents away from the office when a child is ill, immobile, or can't come to our office for other reasons.
Talk to a respected Columbus child injury lawyer now
The Columbus attorneys at Soroka & Associates understand how concerned you are about your child's health and well-being. Our lawyers answer your questions, your child's questions, and guide you through each phase of the claims process. While we prepare each case for trial, many child accident cases do settle – often for the insurance policy limits. To schedule a free consultation, please call us at 614-358-6525 or fill out our contact form. We handle child injury cases on a contingency fee basis.
Related Articles: