City Recognizes Speeding Issue in Downtown Columbus, OH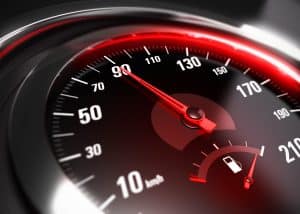 Columbus City Council officials have finally given some public recognition to the area's growing speeding issue. The Columbus Dispatch published a story last week detailing the city's plan to reduce traffic accidents, injuries, and fatalities.
In an effort to do this, they will not only reduce the speed limit along downtown's main roads from 35 mph to 25 mph, they will also integrate more timed traffic lights so cars will not be able to travel above 25 mph between each light. They will also lengthen the amount of time all four lights at an intersection stay red so pedestrians have ample time to safely cross the street.
Speeding in Columbus, Ohio has been an issue for years. In 2021, 11% of all Ohio car accidents were speed-related and caused nearly 1,550 serious injuries—that's over four people per day. The numbers in 2022 are only more jarring, according to the Ohio Department of Public Safety. Of all traffic accidents, there were nearly 7,500 people seriously injured – over 256 people per day, and one person injured every five and a half minutes.
Downtown Columbus isn't the only area of concern
Recently, a 22-year-old was driving around a residential neighborhood when he crashed into the living room of a nearby home around 1 a.m. Witnesses say the driver must have been going at least 60 mph in a 25 mph zone, and the Ohio Highway Patrol mentioned that they did not believe impairment contributed to the crash. Thankfully, no one inside of the home was injured, but the homeowner talked about how the car was headed straight for his daughter's bedroom where she was sleeping, but it veered away from it at the last minute and struck the living room instead. Residents became vocal about the town's need for speed bumps, stop signs, or anything that would slow drivers down to keep their families safe.
Speeding reduces the time a driver has to react
What many people do not think about is that speed limits are put in place for a reason. Just because roads are flat and straight does not make them safe to drive on at increased speeds. According to the National Safety Council, the faster you go, the more time you need to safely and effectively stop your vehicle. If there is an emergency and you were speeding but not planning on stopping so soon, it could be hazardous. Speeding also reduces the effectiveness of structures put in place for protection in case of a crash. Things like guardrails, crash cushions, and median dividers become less likely to protect you if you are driving above the speed limit.
Accidents involving speeding cause more serious injuries
When you are traveling at high rates of speed, the likelihood of causing serious injuries is also high. Imagine what a car's damage would look like after hitting another car while they were both driving at 25 mph. Since they were both driving slower, it could be a mere fender-bender and only cause some minor property damage. Now, imagine what the car accident would look like if one was driving at 25 mph and another car hit them while driving at 50 mph. Going double the speed limit could cause that other car to be pushed off the road and for it to flip over. The passengers inside would likely need to be hospitalized for their injuries.
Common injuries sustained in speeding-related accidents
The injuries that may occur after a collision at a low rate of speed are typically minor, if there are any at all. But once the speed is increased, those injuries can become much more severe. Some examples of injuries Columbus, Ohio drivers may sustain after being hit by a speeding driver are:
Broken bones
Whiplash
Neck and spinal cord injuries
Organ damage
Internal bleeding
Severe lacerations
What causes people to break the speed limit in Columbus?
Sometimes people are in a rush. Sometimes they like pushing the limit. Other times, they simply aren't paying attention. People speed for so many reasons, but none of them are good enough reasons to put their and someone else's life at risk. Some other reasons people speed are:
Societal norms or peer pressure
Familiarity with the road
Road rage
Under the influence of drugs or alcohol
Unaware of speed limit
Distracted by passengers
What to do if you've been hit by a speeding driver
Accidents are scary, and being hit at a high rate of speed can be traumatizing. If you were hit by a driver who was speeding, be sure to:
Immediately call the police and file a report
Seek medical attention, even if you think you are okay
Exchange information with the other driver
Take pictures of the damage to your car
Take pictures of any damage to yourself
Never speak to the other party's insurance provider
Medical bills can add up fast, and you could be out of work if you were seriously injured. If the accident was not your fault, you could fight for compensation to help pay for your current and future medical bills, lost wages from being out of work, and your pain and suffering. Whatever you do, do not try to win this battle on your own. Insurance companies are not pleasant to deal with and it can be a very tricky situation to navigate.
If you were injured in a car accident due to someone else's negligence, contact Soroka & Associates, LLC today. It is against the law to speed for a reason, and we will help make sure that justice is served. We will dig into the details of your case to help you get the most compensation possible. To schedule a consultation, call our office or complete our contact form. We aggressively serve the people of Columbus, Ohio.