Columbus Is #1… When It Comes to the Most Dangerous Intersections in Ohio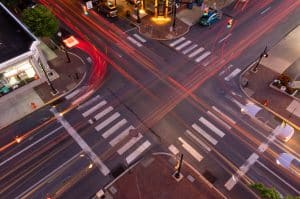 Even though car accidents can happen anywhere at any time, intersections tend to be one of the most common places for these accidents. Crashes are so common that the Ohio Department of Transportation (ODOT) actually has a Top 150 list.
The good news (if there's "good" news to be had) is that ODOT has been working on these dangerous intersections for the last four years. The bad news, however, is that there are a lot of deadly intersections in Columbus. Per 614Now.com:
Nearly half of the state's top 50 most dangerous intersections are located in Columbus. That's more than any other Ohio city, and it includes the state's most dangerous intersection at Cleveland Ave. and Morse Rd…. Here are the five worst Columbus intersections according to the research:
Cleveland Ave. and Morse Rd.
Hamilton Rd. and Livingston Ave.
Karl Rd. and Morse Rd.
Hilliard Rome Rd. and Renner Rd.
Cleveland Ave. and Dublin Granville Rd.
For the record, once the top 150 are fixed, there are still 350 more dangerous intersections to go.
Why do intersection accidents happen?
There are many reasons why intersection accidents happen, such as:
Speeding
Reckless or careless driving
Road rage or aggressive driving
Intoxicated driving
Drowsy or fatigue driving
Inadequate driving experience or knowledge
Poor weather or road conditions
Visual issues
Hidden signs or broken and malfunctioning traffic lights
As you can see, most intersection accidents happen due to mistakes and errors made by a motor vehicle driver or road or weather conditions. However, many of these accidents can be avoided if all drivers pay attention and know the Columbus right-of-way laws.
What are the right-of-way rules in Columbus, OH?
According to Ohio Code 4511.41, "when two vehicles, including any trackless trolley or streetcar, approach or enter an intersection from different streets or highways at approximately the same time, the driver of the vehicle on the left shall yield the right-of-way to the vehicle on the right." Motor vehicle drivers who do not follow this right-of-way rule will be given a misdemeanor charge. Otherwise, the general rule is that the person who arrives at the intersection before you has the right of way.
The different types of intersection accidents
It is important to keep in mind that intersection car accidents can happen regardless of if the intersection is controlled by stop signs, stop lights, yield signs, or even roundabouts. The types of intersection accidents that may occur include:
Speeding accidents: When a traffic light turns yellow, some drivers will hit their gas to try to beat the light before it turns red. Most of the time, they cannot beat the light but may decide to go anyway. This can cause an intersection accident quickly if others are not paying attention and do not notice the speeding vehicle.
Running a stop sign or light accident: Sometimes, when drivers believe that they have the right of way, they will continue going forward without much thought. The reason for this is because they assume that they have the right of way and that other drivers are aware of this. However, if another driver does not stop at a stop sign or light, it can cause a dangerous and deadly collision.
Failing to yield accidents: If there are yield signs, drivers are required to yield. However, if a driver does not pay attention or follow the traffic signs at an intersection, they could cause a terrible accident that could have been prevented.
T-bone accidents: T-bone accidents are one of the most common accidents that happen at intersections. These accidents typically occur when a driver makes a mistake, is not paying attention, or is speeding. When the driver starts to make a left turn, they may not notice oncoming vehicles, causing a T-bone accident. These types of accidents lead to side impacts, which is very painful to the human body and can cause great damage to a vehicle.
Rear-end accidents: Rear-end accidents may happen when a driver attempts to proceed at an intersection. The vehicle behind a driver may misjudge or think that they are going, which may cause them to collide into the rear of the vehicle.
Head-on collisions: When two drivers do not know who has the right of way and both decide to go, it can lead to a head-on collision. A head-on collision occurs when two vehicles run into the front of each other's vehicles.
The most common injuries that occur in an intersection accident
Intersection accidents can lead to severe or minor injuries. It depends how much speed and impact were involved as well as what type of intersection accident you experienced. Here are some of the most common injuries that occur in an intersection accident:
Head and skull fractures
Broken and fractured bones
Crushing injuries
Internal bleeding
Internal organ damage
Neck injuries and whiplash
Facial, eyes, and dental injuries
Cuts, lacerations, and punctures
Amputations or loss of limbs
Paralysis
Severe bruising, scarring, or disfigurement
Death
If you suffered injuries and losses from an intersection crash, we are here for you. A Columbus car accident lawyer from Soroka & Associates will give you and your case the full attention you deserve, and answer any questions and concerns you may have. Our attorneys provide a helping hand to our clients from start to finish, and we will be happy to help you navigate the complex legal system as well. Please do not hesitate to call our office or submit our contact form to schedule a free consultation with a Columbus car accident attorney.