Seeking Justice After a Hit and Run Accident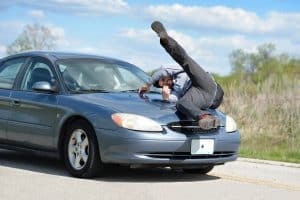 Car accidents can be traumatic, no matter how severe your injuries are. They can leave you feeling shaken and anxious, and dealing with the insurance company certainly doesn't help. If you are injured, though, you can legally seek compensation from the negligent driver who hit you.
But what if that driver cannot be found? A hit and run accident is when a driver of a vehicle causes or is involved in a crash with another vehicle and fails to stop. Instead, they continue driving and do not check on other drivers and passengers involved, exchange information, or wait for law enforcement officers to arrive at the scene.
According to the National Highway Traffic Safety Administration (NHTSA), there were almost 3,000 fatalities caused by hit and run accidents in the United States in 2021, which was an 11 percent increase from the previous year. Ohio's database of crashes doesn't include hit-and-runs, but we have seen quite a few of them in the Columbus area just this year:
Most of the time, when a driver fails to stop or comply after causing or being involved in a motor vehicle accident, it is because they are reckless, careless, or irresponsible. However, some people genuinely do not realize that they have struck a pedestrian, bicyclist, or even another vehicle.
What should I do after a hit and run accident in Columbus?
If you are involved in a hit and run accident, your first instinct may be to chase after the driver and demand that they stop and return to the accident scene. However, it is crucial that you refrain from doing this. This can lead to a dangerous and deadly situation quickly. Instead, you should remain at the accident scene until law enforcement officers arrive. Then, you can begin explaining what happened, which direction the vehicle went, what type of vehicle hit you, what the driver looked like, and more.
You should take as many notes as possible about any information you know and remember about the accident. For example, you can write down the time of the accident, the location, the color of the vehicle that hit you, the type of vehicle, what the driver looked like, which direction they went, what happened during the accident, and more. (Sometimes, there may be nearby witnesses who saw your accident and are willing to provide a witness statement or explain to the police officers what they saw happen, but let the police handle that.)
You will also want to reach out to a Columbus car accident attorney at your earliest convenience. We have the experience, knowledge, and education to help you with this type of accident as well as provide you with the best legal advice possible when it comes to your case. Hit and run accidents can cause severe and catastrophic injuries, which may lead you to accumulating expensive medical bills and being out of work for long periods of time.
Do I really need a lawyer if I'm injured in a hit-and-run in Columbus?
When you're injured in a hit-and-run, you actually make your insurance claim against your own insurance company. But you can only do this if you haven't waived your right or eliminated your uninsured/underinsured motorist (UM/UIM) coverage. Assuming you have this coverage, though, you can seek reimbursement through your own policy.
But if you think this will be easy simply because it's your insurance company and not someone else's, you may have a tough lesson coming to you. Insurance companies want to keep your money – period. And even though you pay your monthly bill and keep up-to-date with any changes, and make sure you sign all the paperwork they send you, you still can't necessarily ensure that your own insurer will play ball. Working with a Columbus hit-and-run lawyer shows your insurance company that you mean business.
If the hit-and-run driver is caught by police, we can help you hold the driver accountable by filing a claim against him or her instead.
A quick note about MedPay
Medical Payments coverage, or MedPay, is another optional type of coverage. If you have MedPay, you can and should use it to help with your medical expenses. You don't need to prove fault to access your MedPay, and you're allowed to use it for deductibles and co-pays. As such, if you're injured by a hit-and-run driver, you can always use your health insurance to cover your medical bills, your MedPay to cover immediate expenses and deductibles, and your UM/UIM coverage to pay for any additional losses, like your repairs. One nice thing about MedPay is that it's not subject to subrogation, which means if the liable driver is caught and you file a claim against them, you won't have to reimburse your own insurance company for the MedPay funds.
Contact an experienced attorney now
If you suffer injuries from a hit and run accident, please get in touch with a Columbus hit and run attorney from Soroka & Associates immediately. Our team will work endlessly to help you recover the financial damages you are owed, as well as ensure that you feel confident and worry-free about your case. Call our office or submit our contact form today to receive our professional and experienced guidance during this difficult time.