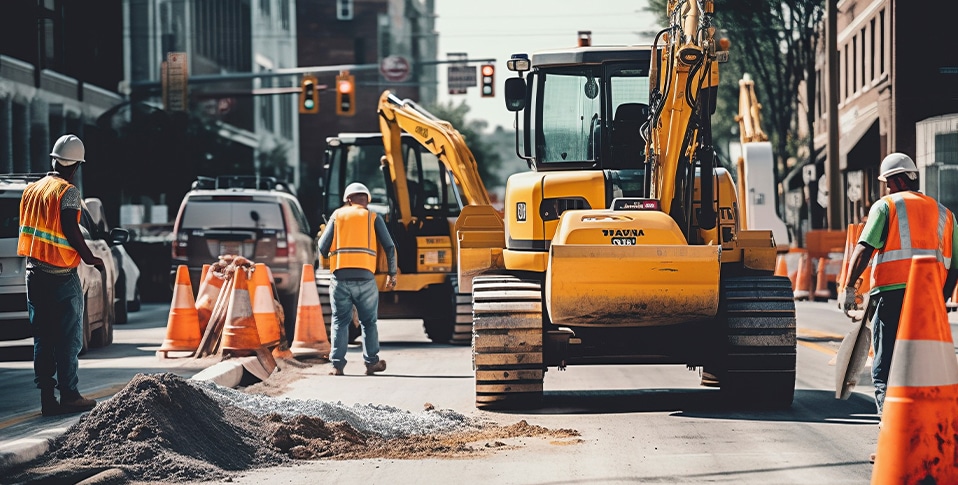 Columbus Work Zone Accident Lawyers
Strong advocacy for Central Ohio roadway accident victims
Broad Street. High Street. Urban roads. Suburban roads. Rural roads. Highways. There's always some type of roadway construction taking place in and around Columbus. Roadway construction includes maintenance, widening roads, building new roads, tree landscaping, utility work, bridge work, and many other types of road building and maintenance. The companies that are hired to do this are paid good money for their work. In return, these companies have a duty to ensure that work zone accidents don't occur. Drivers, passengers, pedestrians, and bicycle riders all need to be protected.
At Soroka & Associates, our skilled personal injury lawyers understand the dos and don'ts of roadway construction. After you suffer an injury, we work with investigators, the police, and others to determine how your Columbus work zone roadway accident happened and why it happened. We understand the laws that apply to roadway construction and the construction industry standards that apply. We hold construction companies and others responsible if they fail to divert traffic away from the work zone. Our lawyers demand compensation for all your medical bills, lost income, pain and suffering, property damage, and other damages.
How often do work zone accidents happen?
According to the US Department of Transportation, in 2019, 842 people died in highway work-zone crashes – an 11.2 percent increase from 2018. Four out of every five work zone deaths involved drivers or passengers, as opposed to the workers at the site. According to National Workzone Safety, in 2020, there were:
156 pedestrian deaths in work zone areas.
244 commercial vehicles were involved in work zone fatalities.
857 work zone deaths.
Approximately 44,000 people were injured.
102,000 work zone crashes.
There were 4,796 crashes in Ohio work zones in 2021. Thirty-five percent of those crashes occurred with workers present. The crashes caused 1,759 injuries and 29 deaths. Out of those, 20 workers were injured, and one was killed.
Why do work zone accidents happen in and near Columbus?
There are many reasons why work zone accidents happen. Drivers are often traveling at high rates of speed before they are warned to slow down or move into other lanes. Workers have little protection if they are struck by a car or truck. Most roadwork requires that drivers change lanes, which can cause accidents since some drivers refuse to let other drivers merge, or make it difficult to merge. Driver confusion about when and where to shift lanes or take detours is also very common.
Roadwork usually means that the roads near the construction site will be different than the roads that lead to the site. Some roads may be stripped. Some roads many have gravel or tar on them; different road surfaces make it difficult for drivers to gain traction. Work zone accidents are especially likely to occur at night, when visibility is low.
What steps should road construction companies take to avoid accidents?
Work zone companies need to comply with federal, state, and local laws.
Ohio has a pocket reference that summarizes guidelines established in the Ohio Manual of Uniform Traffic Control Devices (OMUTCD). The guide includes "basic principles, a description of the standard traffic control devices used in work areas and traffic incident management areas, guidelines for the application of the devices, and typical application diagrams. Information concerning proper flagging is also presented."
There are also federal laws, Occupational Safety and Health Administration regulations, Federal Highway Administration regulations, and other regulations that govern roadway construction.
Road construction companies should comply with industry standards for roadway construction. At Soroka & Associates, our Columbus lawyers investigate whether construction companies failed to take any of the following precautions:
Routes should be designed and prepared so that drivers don't have to make quick last-second decisions.
The route towards and at the construction site should have properly placed warnings that clearly indicate what actions are expected of the driver.
Traffic cones should be placed to control and direct traffic away from the work zone.
Detour signs should help the driver.
Barricades should be properly placed and shouldn't cause accidents if a driver gets too close to a barricade.
The traffic lanes near the work zone should be marked properly.
Construction equipment such as cranes and bulldozers should be as far away from the traffic as possible.
In addition to construction companies, other drivers may be liable for your injuries or the death of a loved one when a work zone accident happens. Drivers may cause a work zone accident if they:
Drive while distracted. Drivers who are texting while driving, using their cellphone, eating a sandwich, or are just too tired to concentrate can easily cause an accident. Distracted drivers often realize too late that they need to stop, shift lanes, or use other types of caution.
Drive too fast. Traffic usually slows down near work zone sites as traffic is directed away from the work site. Drivers who speed are likely to collide with slower-moving cars.
Do not merge properly. Road construction companies usually close one lane or more – forcing drivers to merge into other lanes. Drivers who are shifting into other lanes need to exercise caution. Drivers who are in the proper lane need to allow other drivers to merge in front of them.
Nighttime, rain, slippery roads, fog, and other bad weather conditions create an increased risk of a Columbus work zone accident.
Who is responsible for a work zone accident in Central Ohio?
At Soroka & Associates, our Columbus work zone accident lawyers file claims against everyone responsible for your injuries. The defendants may include:
The construction company. Road construction companies are often hired by the state, the county, or other governmental entities. They may also be hired by private companies. We work to show the construction companies failed to properly plan, supervise, monitor, and update the proper safety procedures and protocols.
Drivers. Motorists owe a duty to other drivers, pedestrians, bicycle riders, and construction workers to obey the traffic laws of Ohio and proceed with caution. Drivers should comply with construction warnings. They should pull over to a safe place before checking their GPS system for detours.
A state or Columbus government agency. The state entities and agencies that plan and authorize road construction work are responsible for how the work is done. They need to vet the construction crews they hire. Our Columbus work zone accident lawyers file timely notices and claims against Ohio or Columbus agencies.
Other defendants may also be responsible for a Columbus work zone accident. Our attorneys can explain more in a consultation.
Do you have a work zone lawyer near me?
The Columbus office of Soroka & Associates is located at 503 South Front Street, Suite 205. We're close to I-71 and Rt. 23. Our lawyers meet clients away from the office when necessary.
Contact an experienced Columbus work zone accident lawyer now
Contact the Columbus attorneys at Soroka & Associates, LLC, to assert your right to compensation when construction companies and others fail to protect you. We'll investigate the accident site and the vehicles involved in the accident promptly. We settle many cases – often for the insurance policy limits, and we're always ready to try your case before a jury. Phone us at 614-918-4078 or use our contact form to schedule a free consultation. We handle work zone accident cases on a contingency fee basis.