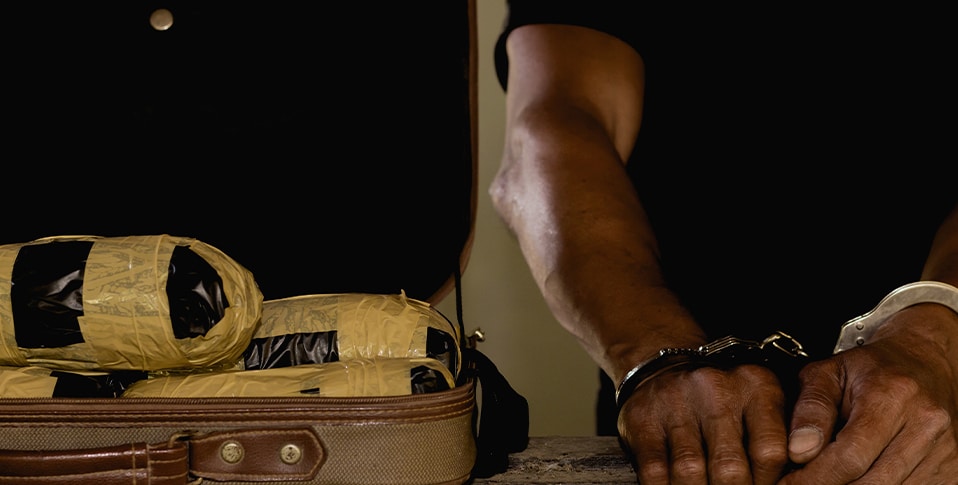 Columbus Drug Trafficking Defense Lawyers
Relentless representation for clients charged with drug trafficking in Central Ohio
Drug trafficking is judged more harshly than drug possession, at both the state and federal levels. That's because drug trafficking generally includes the sale and distribution of illegal drugs. Anyone who brings a large amount of drugs into Ohio from another state or another country – by land, sea, or air – may be charged with drug trafficking. Any time authorities discover large quantities of drugs, it's likely the government will investigate whether drug trafficking criminal charges should be filed.
Drug trafficking charges are complex and require a sophisticated defense. If charged with a drug trafficking offense, it is imperative to get an experienced criminal defense attorney who understands drug trafficking laws and their applications. Soroka & Associates, LLC is a Columbus-based firm that is highly experienced in defending both drug trafficking and drug possession offenses, on both the state and federal levels. Our record of strong results in drug trafficking cases includes:
Drug Trafficking – Evidence Suppressed after Suppression Hearing, Case Dismissed by State
Drug Trafficking – Denial of Motion to Suppress overturned by the Court Appeals, Case Dismissed by State
Call us today to set up your free consultation with one of our experienced attorneys.
How does Ohio define drug trafficking?
Ohio defines drug trafficking as follows:
(A) No person shall knowingly do any of the following:
(1) Sell or offer to sell a controlled substance or a controlled substance analog;
(2) Prepare for shipment, ship, transport, deliver, prepare for distribution, or distribute a controlled substance or a controlled substance analog, when the offender knows or has reasonable cause to believe that the controlled substance or a controlled substance analog is intended for sale or resale by the offender or another person.
Ohio's drug trafficking laws do not apply to any of the following:
"Manufacturers, licensed health professionals authorized to prescribe drugs, pharmacists, owners of pharmacies, and other persons who meet the terms of the Ohio drug trafficking statute."
Research projects approved by the US FDA, if the drug involves an anabolic steroid.
Other transactions involving livestock or other nonhuman species involving anabolic steroids that meet the standards of the Federal Food, Drug, and Cosmetic Act.
The government has the duty to prove that someone charged with drug trafficking "knowingly" engaged in the offense. The "knowingly" requirement is often shown through the amount of drugs involved and the type of drugs involved.
What are federal drug trafficking charges?
At the federal level, if you find yourself facing drug trafficking charges, you've likely been arrested for violating 21 U.S. Code § 841. This federal law makes it illegal for any person "knowingly or intentionally" to:
"Manufacture, distribute, or dispense, or possess with intent to manufacture, distribute, or dispense, a controlled substance," or:
"Create, distribute, or dispense, or possess with intent to distribute or dispense, a counterfeit substance."
Although the statute isn't specifically labeled "drug trafficking," this is essentially what it prohibits.
What is the drug scheduling system?
According to the US Drug Enforcement Agency (DEA), drugs regulated by federal law are placed into one of five schedules according to the Controlled Substances Act (CSA). A controlled substance is a Schedule I, II, III, IV, or V. The most serious drugs are labeled Schedule I, while the least serious drugs are labeled Schedule IV. The factors used, per the DEA, to assign a drug to a specific schedule level are:
(1) Its actual or relative potential for abuse.
(2) Scientific evidence of its pharmacological effect, if known.
(3) The state of current scientific knowledge regarding the drug or other substance.
(4) Its history and current pattern of abuse.
(5) The scope, duration, and significance of abuse.
(6) What, if any, risk there is to the public health.
(7) Its psychic or physiological dependence liability.
(8) Whether the substance is an immediate precursor of a substance already controlled under this subchapter.
What are the penalties for drug trafficking in Columbus?
The penalties for drug trafficking convictions at both the state and federal levels are quite severe. You may be sentenced to lengthy prison time and huge fines. On release from prison, you will likely have a very difficult time finding employment and a place to live. Trafficking is a felony, which will prevent you from owning a firearm. There are other severe consequences as well, such as a likely suspension of a professional license.
Generally, at both the state and federal levels, the judge will consider the following sentencing factors:
State or federal sentencing guidelines.
Type of drug trafficked.
Amount of the trafficked drug.
Jurisdictions involved – other countries, other states, or within one state.
Any prior criminal record.
Other factors.
Generally, drug trafficking crimes are felonies. Ohio's penalties for drug trafficking depend on the level of the felony.
Felony – 1st degree. 3-11 years in prison. Up to $20,000 in fines.
Felony – 2nd degree. 2-8 years in prison. Up to $15,000 in fines.
Felony – 3rd degree. 1-5 years in prison. Up to $10,000 in fines.
Felony – 4th degree. 6-18 months in prison. Up to $5,000 in fines.
Felony – 5th degree. 6-12 months in prison. Up to $2,500 in fines.
Depending on the type and amount of drug you were arrested with, there could be mandatory sentences involved. Heroin and cocaine drug trafficking, for example, is treated much more severely than marijuana trafficking.
Ohio has "aggravated trafficking" penalties depending on the amount of the drug involved. Penalties also increase if the offense took place near schools or minors.
How can your Columbus drug trafficking defense attorneys help?
At Soroka & Associates, our Columbus drug trafficking defense lawyers assert every Constitutional, legal, and factual defense available. Some of these drug crime defenses include:
Asserting that the drugs were illegally seized in violation of your Fourth Amendment rights.
That there is no or insufficient evidence of knowledge or intent.
The amount of the drugs is less than claimed.
The prosecution failed to prove each element of the criminal charge beyond a reasonable doubt.
The government entrapped you.
Other defenses, depending on the facts of your case.
In addition to asserting all your defenses, our criminal defense lawyers negotiate plea arrangements with the prosecution to reduce the severity of the offense or reduce the amount of any prison time.
Do you have a drug trafficking defense lawyer near me?
The Columbus office of Soroka & Associates is located at 503 South Front Street, Suite 205. Our office is near I-71 and Rt. 23. We meet clients at detention facilities if needed.
Talk to a strong Columbus drug trafficking defense lawyer today
Drug trafficking charges are extremely serious. You need experienced criminal defense lawyers on your side who have tried cases before juries, argued cases and motions before judges, and are skilled at challenging the prosecution's case. At Soroka & Associates, we're ready to defend you from the moment the police suspect you or arrest you for drug trafficking. Call us at 614-918-4078 or fill out our contact form to schedule a free drug defense consultation.